Chew cards
Chew cards are a great way to work out the best location for your trap and which predators might be making a home in your backyard or school grounds. This is especially helpful when you first start out trapping or if your trap hasn't caught anything for a while.
Installing chew cards
First, bait your chewcard with peanut butter on opposite sides of the card at one end. The idea is to fill the grooves of the corflute with peanut butter to give the rats something tasty to nibble on (see bait placement chewcard to the right).
Start by placing the cards in areas where you suspect rat activity (e.g. near compost or rubbish bins). Fold the chew card in half and get help from a parent, teacher or garden to nail it to a nearby tree or fence (at a height of 50mm-100mm) which will help to keep it secure. We suggest leaving it out for around 5-7 nights.
Identifying bitemarks
Use these handy photos to figure out which chews belong to which predator.
Rat chews look like this:
Extra for experts: How to differentiate between an adult and a juvenile rat chew
Adult rat chews:
Juveline rat chews:
Mice chews look like this: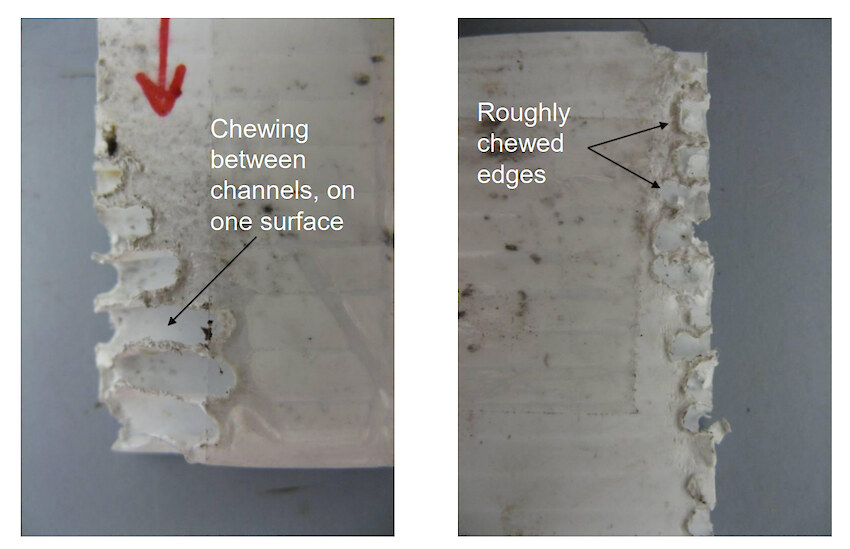 Other predators chews look like this: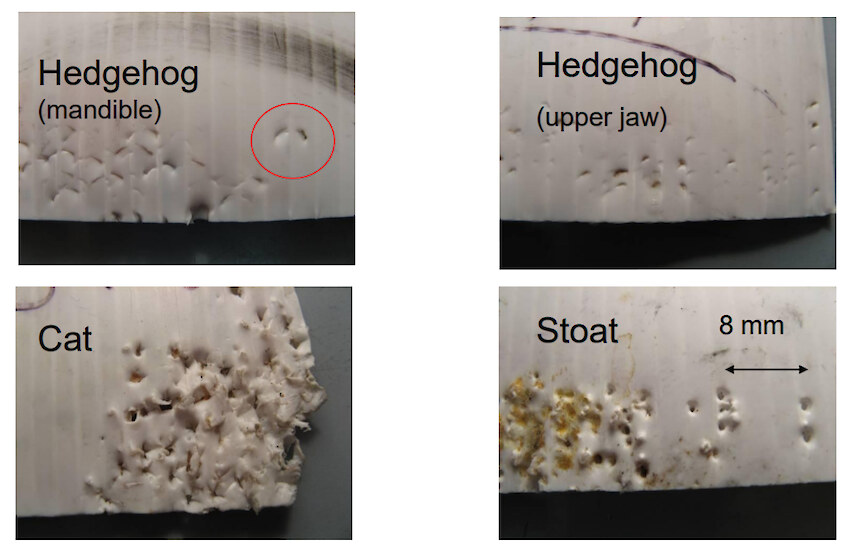 Tracking Tunnel
Tracking tunnels are another great way to get an insight into whats in your garden or school grounds. An ink pad placed inside the tracking tunnel shows up the footprints of both predators, such as rats, as well as native wildlife like geckos, insects and invertebrates (wētā)!
As you trap more, you might find the prints of native wildlife more and more often!
Rat prints look like this:
Mice prints look like this:

Gecko prints look like this:
Wētā prints look like this:

Wētā hotels
A way to monitor specifically for Wētā is to create a habitat for them in your backyard or on your school grounds!
Download this handy guide to make your own wētā hotel out of an old yoga mat! it works for Gecko's too. (Credit: te Motu Kairangi)
Have a look at this video of a jam packed wētā hotel one of our team found whilst at work out on the Miramar Peninsula.
Keeping a look out!
You may be able to spot signs of predators even without setting up tracking devices and one of the key indicators is droppings!
Rat vs Wētā droppings
Rat droppings are very similar looking to the droppings of our treasured invertebrates, the wētā. Incidentally, the te reo word for poo is weta (without the tohutō / macrons). You can use the guides below to help tell them apart!
Wētā droppings are:
Round like a jelly bean with a blunter end (roughly 10mm in length)
Ridged lengthwise resulting in a striped appearance that fades with time
Slightly flattened at the edges
Have been known to smell like vanilla
Often found near to an entrance or exit of a hole/burrow e.g. in a tree
Norway rat droppings are:
Cylindrical pellets roughly 13.4-19.1mm long
Droppings taper at the end but are larger and have rounder tips compared to the Ship rat droppings
Ship rat dropping are:
Small cylindrical pellets roughly 6.8 - 13.8mm long
Pellets are thinner and taper to a sharper point compared to Norway rat droppings