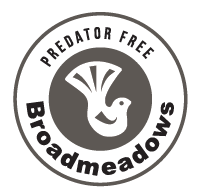 One of the last links in the protective chain between ZEALANDIA Te Māra a Tāne and Porirua, our group was established in July 2018, although individuals have been trapping and poisoning in the area for longer.
The suburb of Broadmeadows shares a border with Khandallah Park. The more rats and mice and other introduced mammals we can trap, the safer the native birds and lizards in the park next to us will be. And over time we can expect to see more of these birds and lizards in our neighbourhood, too.
Contact us to join this awesome nation-wide movement to help the birds by eliminating the predators.